During a work-out or exercise your body uses energy stores, nutrients, an electrolytes. After your done it's important to replenish these items so that your body can heal and recover. There is a critical 30 minute window right after exercising where your body needs these nutrients the most. Here is a simple smoothie recipe to help with your post-exercise recovery.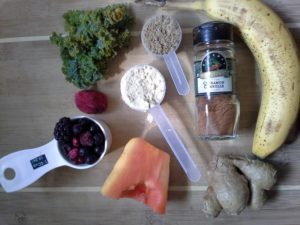 Ingredients:
1/2 banana
1/4 C mixed berries
3 Tbsp ground flax seed
1 serving protein shake mix
2 Tbsp fresh ginger root
2 tsp cinnamon spice
1/4 C kale
1/4 C papaya
1/2 C water or soya milk or almond milk
Directions:
Put all ingredients in a blender and puree until smooth. Add more water or milk as required to get desired consistency. Drink and enjoy!
(post previously published April 17, 2017)